A dental implant is an artificial "tooth root" that is set into the bone and it replaces your own root.  A dental implant is recommended for individuals who have lost a tooth or multiple teeth because of periodontal ailment, carries, wear, or injury.
Dental implants are attached to the gum tissues and are hidden in bone in the mouth. When a dental implant has successfully been fused to the bone, and it is effective, it should last many years if properly taken care of.
Many implants have now been in place for more than 40 years.
Implants have approximately a 96% success rate if patients follow the suggested instructions.
There are cases where implants fail. Most time those are systemic medical reason or external reasons.
Why Dental Implants?

Retain your natural face shape, and smile
Protect your healthy teeth
More permanent then other repair and restoration methods
Keep teeth in place
Next best thing to healthy, natural teeth
Replace one tooth at a time as it is lost so that you will NEVER need dentures!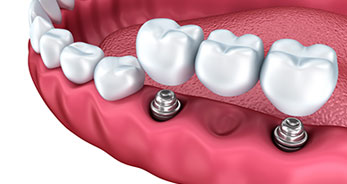 What does getting dental implants involve?
Implants are made of titanium alloy. Since the 1980's when they were first introduced to North America, implants have come a long way and are the BEST treatment option.
Sometimes implants have to be supported by extra bone in which case we add bone around the implant. If you know you are loosing a tooth and you will be getting an implant we will add bone to the area when we take the tooth out and allow it to regenerate. Approximately 4-6 months later the area is ready for the implant placement.
Once the implant has fused to your bone, usually 4-6 months a crown can be placed on the implant.
With proper home care and regular dental hygiene and check up visits implants can last as long as teeth and in some cases longer as they are not susceptible to carries.