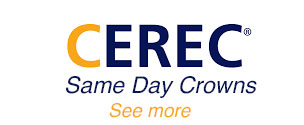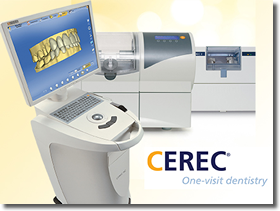 In most offices crowns required two visits to be completed, one to prepare the tooth and a second to place the crown in, a week or 10 days later. An impression is taken of the tooth that in turn is send to a "dental laboratory". The "dental laboratory" will fabricate the crown and will send it back to the dentist for insertion.
Our office is a "certified" CEREC office as we offer this new technology. With the advanced CEREC technology, we can now take digital impressions avoiding the use of the unpleasant impression materials and fabricate your crown in the office the same day, This is a huge benefit to those patients that travel extensively, or that are faced with emergencies. We can now complete your crown in one day.
If you would like to learn whether you are a candidate for this efficient,cutting edge technology, please call 416-931-3368  or email us at drmavs@thestockyardsdental.com  in Toronto, Ontario today for an appointment with our cosmetic dentist.
What is a Dental Crown or Cap

A dental crown is a tooth-shaped cap which covers a damaged tooth, improves its appearance, shape or alignment. Porcelain crowns are an ideal way to protect a weak tooth from rupture, restore a ruptured tooth, attach a bridge, cover dental implant, cover a discolored or oddly shaped tooth, and cover a tooth that has had root canal treatment. Only a dentist can remove it once it's in place.
There are  many types of crowns such as Ceramic, Porcelain, Gold alloys, and Base metal alloys, but Porcelain Crowns are the most popular because they are Natural looking, Color matched, Durable, Protective, Stain resistant, Safe,and Comfortable.
What is a Dental Bridge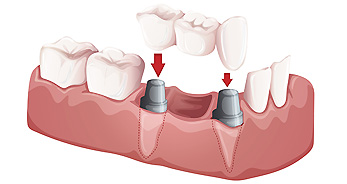 A dental bridge is made to replace one or more missing teeth.
There are different types of dental bridges, but the choice of the type of dental bridge to be used is made based on the location of the missing tooth (or teeth) and the condition of those teeth, gums and mouth. "Traditional bridge" which is the most commonly used bridge consists of an artificial tooth that is attached to two or even more crowns.
What Does Getting A Crown Or Bridge Involve?
On the first appointment, we will prepare the teeth. Once prepared we will take an impression (this shows our laboratory the exact mold for the crown or bridge). Once the mold is done the teeth will be covered with temporary crowns. Once the temporary crowns are in we will decide the right shade for the crown or bridge to match the shade of your current teeth.
On a subsequent visit, the crown or bridge is placed; other visits may be recommended to check the fit of the metal framework and bite(if we are using this material). This is reliant on every individual's case.
How Do I Care for a Bridge?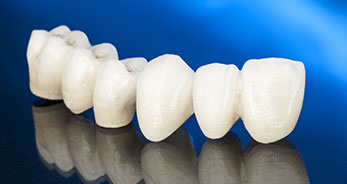 It is very important to ensure that the remaining teeth are sound and solid as the strength of the bridge depends on the strength offered by the surrounding teeth. Brushing twice every day, flossing and utilizing a germicide mouthwash daily will help to avert tooth rot and gum sickness that can cause tooth loss. We can show you how to properly brush and floss your teeth and bridges. A balanced diet for proper nutrition is also important as well as a regular hygiene maintenance schedule.