Teeth whitening  is an easy, non-invasive dental treatment used to lighten the color of natural tooth enamel. It is perfect approach to improving the excellence of your smile.
There are several varieties of  "whitening" alternatives that are available.
Reasons for teeth whitening:
To remove stains on teeth
For special events. for example, a wedding
It is non-surgical
It is generally affordable compared to other teeth restorative techniques.
There are several factors that affect the color change of your teeth after whitening, so it's important to have actual expectations before and after teeth whitening. It is also good to note that there are certain foods, habits (like smoking, drinking red wine , tea), and drugs that may likely cause staining after your teeth have been whitened. It is important to avoid these as much as possible during whitening so as to maintain your white smile.
Take Home Whitening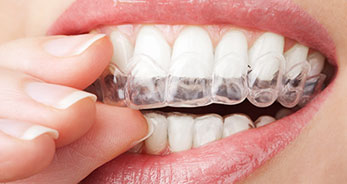 This type of whitening usually requires two visits. On the initial visit, we will take impressions (molds) of your teeth son that we can create custom, clear plastic, plate. The existing shade of your teeth will be taken for comparison.
On the second visit, you will try the tray to ensure the desired fit has been achieved, any changes will be made if needed. The trays are to be worn with a whitening solution either twice per day for 30 minutes or overnight for a few weeks depending on the level of recoloring and level of whitening needed.
We will tell you how to take care of your teeth and trays, and we will schedule you to visit us regularly so that you retain your lovely, bright smile.
THE STOCKYARDS DENTAL  "WHITENING FOR LIFE PROGRAM"
We have created a "Whitening for Life" Program for all our patients.
Once you  have decided to whiten you teeth and after the initial treatment of two weeks if you join the "Whitening For Life Program" as long as you are a patient in the office and come for regular interval hygiene and check up appointments you will receive "Whitening Touch Ups"  free of charge at each hygiene appointment (6 month interval).
The only cost to you is the initial fee charged when we take impressions and deliver your first "Whitening Kit" with your trays. After that all touch up kits are complementary to you as a "Thank you" for being such a wonderful patient!